This was the flagship synth that put the Japanese manufacturers on the map as serious competitors the early '80's. With its colorful user interface and great sound, the Jup 8 scored a hit among musicians the world over.

Crystal clear fatness
The original instrument was known for its lush pads and haunting leads, its ability to split and layer sounds and its flexible arpeggiator. Jup-8 V not only provides these original features, it created an original sound that is respected to this day.

Innovative sounds
From its gorgeous basses to floating pads and lush strings; our Jup-8V has a sound as big as the planet Jupiter.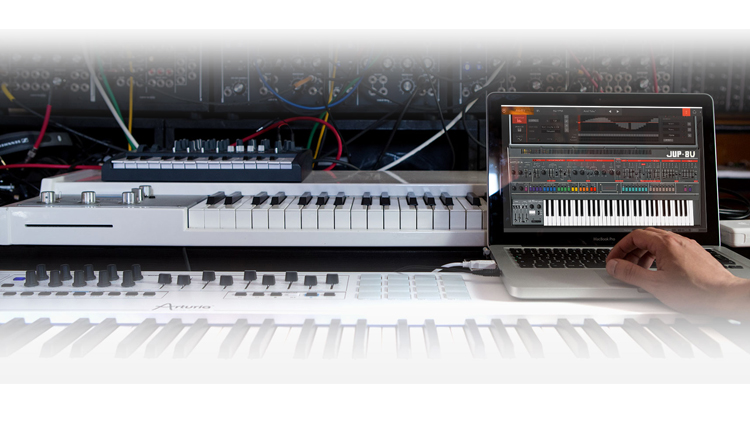 Out of this world innovation
While the original was amazing we wanted it to be mind blowing.
We added the ability to patch effects into the voice path further expanding the sound pallet and then added a full function step sequencer and a bold new modulator called the 'Galaxy'. These new innovations take this product beyond Jupiter and back.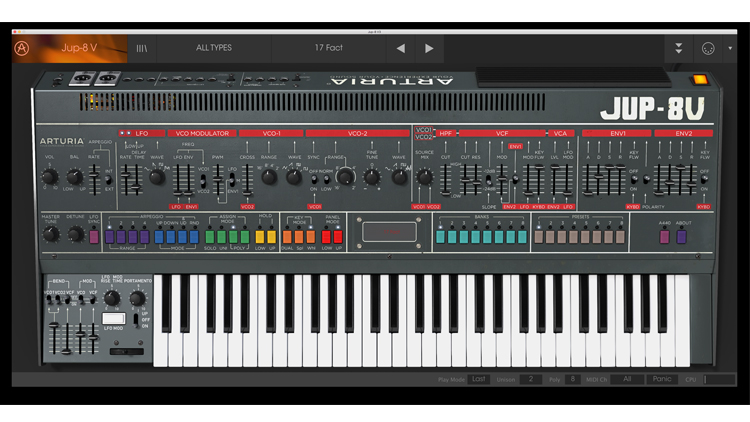 Main Features
More than 500 high-quality, innovative presets
Up to 32 voices of polyphony
The same unique audio structure as the original synth: 2 oscillators per voice, 2 LFOs, 2 filters and 2 envelopes
Unison mode up to 4 voices
Two simultaneous voice-level effects (serial): Chorus/Flanger, Phaser, Distortion, Parametric EQ and Ring Mod with flexible routing options
Two simultaneous Patch-level stereo effects (serial): Chorus/Flanger, Dual Delay, Phaser and Reverb
Performance-oriented step-sequencer
Galaxy: an innovative module for advanced LFO modulation capabilities
Keyboard split and layer
Configure external MIDI control quickly and easily