El nuevo Midiplus AK490 es ideal para iniciarse en el uso de sintetizadores virtuales y producción musical.
Nueva Línea. PC MIDI Center se complace en presentar en primicia mundial la nueva línea de controladores Midiplus 2013. Compuesta por el Midiplus AK490, Midiplus BK 490 y Midiplus EasyPiano. Los tres teclados son el resultado de la constante innovación tecnológica focalizada en las nuevas exigencias del público masivo.
Sensitivo. Pertenece a la familia de los teclados sensitivos, es decir que al tocarlos más fuerte suenan más fuerte, característica es esencial para dar expresión a la música al tocar. Es importante destacar que los órganos electrónicos de bajo costo (tipo Casio, Yamaha, etc.) no son sensitivos o sea que cada vez que se presiona una tecla, ya sea fuerte o suave, suena con el mismo volumen.
Octavador. Incluye 2 botones para cambio de octavas hacia arriba y hacia abajo. Esto permite tocar las 128 notas del espectro MIDI con un teclado de 49 notas.
Teclas. Tanto las teclas blancas como negras de la serie de teclados Midiplus tiene el tamaño y peso normal de los sintetizadores tipo Korg, Yamaha, Roland para que los pianistas y tecladistas de toda formación y estilo puedan utilizarlo con comodidad.
Ruedas de Pitchbend y Modulación. Se trata de dos controles ubicados a la derecha en forma de ruedas que aparecieron en los sintetizadores digitales de la década del 80, tipo Roland o Yamaha. La rueda de Pitchbend cambia hacia arriba o hacia abajo la altura de la nota tocada. Muy util por ejemplo para cuando se tocan sonidos de guitarra electrica y se desea imitar el esiramiento de la cuerda o el movimiento de la palanca. La rueda de Modulación es del mismo tamaño pero cambia justamente el parámetro de modulación del sonido. Con esta herramienta, cuando tocamos un sonido de guitarra distorsionada, se puede variar por ejemplo el sonido típico del acople.
Interfaz MIDI. Esto significa que no hace falta usar una interfaz MIDI a USB para conectarlo a la computadora, este controlador posee salida USB para conectar directamente a la PC o Mac.
Pedal de sustain. Todos los teclados controladores MIDI USB Midiplus vienen provistos con una jack TS ¼ en su panel trasero para conectar cualquier pedal de sustain estandar (normal abierto) y emular el sostenuto de los pianos acústicos.
MIDI Thru. Todos los Midiplus poseen 2 salidas MIDI estándares (con fichas DIN de 5 pines). Una es solamente salida de la información del controlador y la otra es un MIDI Thru. Por esta última envía los datos que ingresan por el puerto MIDI IN USB. Esta característica aumenta considerablemente su versatilidad ya que permite por ejemplo reproducir una secuencia MIDI en la computadora y hacer que suene con sonidos de un módulo externo al mismo tiempo de usar sonidos virtuales.
No requiere alimentación. Ya que toma la energía directamente del puerto USB de cualquier computadora.
Compatiblidad extrema. Los controladores Midiplus son compatibles con todos los softwares de música, sonido e instrumentos virtuales del mercado: Acid, Acoustica BeatCraft, Ableton Live, Audacity, Audition, Band in a Box, BPM Studio, Cool Edit, Cubase, DecaDance, Digital Performer, Encore, Fruity Loops (FL studio), GarageBand, Guitar Pro, Kontak, Logic, Magix Music Maker, Making Waves, Master Tracks Pro, Nuendo, Notion, Orion Pro, plugins: VST y VSTi y Direct X, Pro Tools HD, Pro Tools LE, Pro Tools M-Powered, Reaper, Reason, Samplitude, Sibelius, Sonar, Soundforge, Storm Music Studio, Traktor, Virtual DJ, Z-Maestro, etc.
Stand Alone. El AK 490 al igual que el resto de los controladores Midiplus que puede usarse sin computadora ya que además posee salida MIDI estandar (con conectores DIN de 5 pines). Esto es muy útil para llevarlo a la sala de ensayo o el escenario junto con un módulo de sonidos o una pedalera MIDI.
Cero Latencia. Puesto que se trata de un controlador MIDI cuya electrónica se basa en un microcontrolador de última generación y la latencia se genera en las placas de sonido comunes, este dispositivo no produce ninguna clase de retardo ni latencia entre el momento en que se presiona la tecla y suena. Por ello recomendamos usarlo siempre con una placa de sonido ASIO 2.0.
Plug and Play. No requiere drivers para su funcionamiento, simpl
Envoltorio. El Midiplus AK490 viene en caja de cartón (con 2 topes inmovilizadores de telgopor) impresa a todo color con manija plástica para poder trasladarlo.
Cable USB. viene con el cable USB estandar para conectarlo a cualquier computadora.

Compatible con Apple IOS. Este producto funciona también con todos los dispositivos Apple que tienen sistema operativo IOS (Ipod, Ipad, Iphone y mini Ipad) lo cuál hace que sea más versatil y portable. (IMPORTANTE: el dispositivo IOS debe contar con su Camera Conection Kit de Apple).

Especificaciones.
- 49 notas con sensibilidad, es decir permiten emular el toque expresivo de un piano real gracias a sus teclas sensitivas.
- Botones para cambio de octava.
- Rueda de pitch bend, modulation y datos.
- Entrada para Pedal de sustain (normal abierto).
- Envío de datos MIDI por USB y DIN 5.
- 2 salidas MIDI con conectores DIN 5.
- Entrada de fuente de alimentación opcional (no incluida): 9 V. - 500 mA.
- Peso con envoltorio: 4,48 Kgs.
- Peso neto: 4,28 Kgs.
- Medidas de la caja: 86 cm x 30 cm x 12 cm.
- Medidas del teclado: 73 x 23,5 x 6 cm.
- Medida de las teclas blancas: 13 cm x 2,2 cm.
- Polifonía: 49 notas.
- Origen: Taiwan.





Importante: Las imágenes son sólo ilustrativas. El fabricante puede modificar el diseño y las especificaciones del producto sin previo aviso.
Imagine conveniently having all the keyboard and synth sounds you need for a gig or session all in one place on your computer. No racks. No stacks. Analog Lab 2 gives you streamlined tag-based access to 5000+ of the hottest presets from our award-winning V Collection of 17 faithfully modeled vintage keyboards—including combinations and effects. Each preset automatically maps the most important sound parameters to your KeyLab or MiniLab for intuitive tweaking and performance control, and you can easily custom map to any controllers via the MIDI Learn feature. You can even save the presets you need for a gig into a playlist to step through during your sets. Analog Lab 2 is also the command center for all your V Collection keyboards, giving you full editing access to any full instruments you own.
Everything you need for creativity and inspiration is right here in Analog Lab 2. Welcome to your new go-to keyboard sound collection.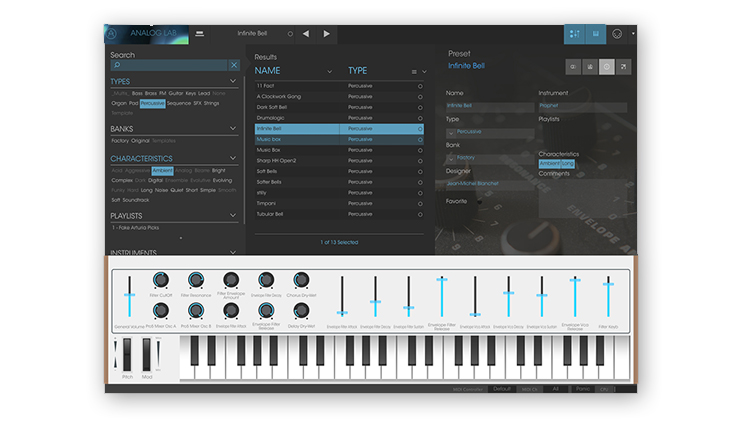 Keeping it real
You're all about the sound. So is Analog Lab 2.
Why settle for samples of classic instruments when you can have faithful reproductions of them? In Analog Lab 2, you're surfing the best sounds from Arturia's award-winning V Collection of 17 classic synths, organs and pianos—all of which are authentic physical models of the originals. There's simply nothing more true to the organic sound quality of yesteryear available anywhere.
Bring the authentic warmth of analog to your music with Analog Lab 2.

All of your favorite go-to sounds at your fingertips
Analog Lab 2 gives you the best of 17 instruments that made music history, all in one convenient place.
Analog synthesizers. Digital synthesizers. Acoustic pianos. Electric pianos. Organs. Strings machines. With the best of 17 vintage instrument reproductions on tap, Analog Lab 2 lets you transcend time and style by arming you with everything from the most iconic sounds of the past to modern sound designs that are cutting edge today. Whether you're composing, recording or performing, over 5000 sounds cover every song, genre, mood and ambience you can think of—no programming required. Use it standalone or with your favorite DAW.
Unleash the sonic power of keyboard history's greatest hits for your musical adventures.

Find and recall your favorite sounds instantly
With Analog Lab 2's sleek new browser, you can always find just the right sound.
Where's that sound? Find it in a flash by clicking tags to filter Analog Lab extensive sound library by Types, Characteristics, Instruments and more. Need a fat, funky bass? Just click that combination of tags to get a short list from the across the entire library—or limited to just the virtual instruments you select. Click to designate your favorites for instant recall later. Use Playlists to line up just the sounds you need for gigs or sessions, then access or step through them with MIDI program change mapped to your preferred buttons or pedal.
Whether your writing, recording or gigging, Analog Lab's elegant browser makes it a breeze to quickly mine the depths of this vast library for the sonic gold you're looking for.

Main Features
The original hardware/software hybrid synthesizer
Updated with sounds from the V Collection 5
Over 5000 sounds from some of the best sound designers in the industry
TAE® presets are carefully selected from our V Collection 5 (ARP 2600 V, B3 V, CS-80V, Farfisa V, Jup-8V, Matrix 12 V, Mini V, Modular V, Prophet V, Prophet VS, SEM V, Solina V, Stage V, Synclavier V, Piano V, Vox V, and Wurli V)
Updated browser to find your sound quickly: by Type (Bass, Pads, Leads…), by Characteristics (long, bright, dark…), etc.
Multi mode for creating your own layers, splits and adding effects
Automatic mapping of parameters for Arturia keyboards
Parameters can be mapped easily to other MIDI controllers
Standalone or plug-in operation (VST, VST3, AU, AAX)
Full preset editing available for owners of the full versions of our synthesizers (Mini V, Modular V, CS-80V, Wurlitzer V, etc.)
User interface configures automatically to match your Arturia controller